Ever since the famous AOL data leak of 2006 people have been endlessly quoting the same old figures when asked for amount of clicks a particular ranking gets.
Recently the data has become a lot more accurate thanks to the release of click data in Google Webmaster Tools and a new study by the Chitika ad network.
From the AOL data we can see that first place gets 42% of traffic, compared to just 11.9% for second place. That seems too high to me.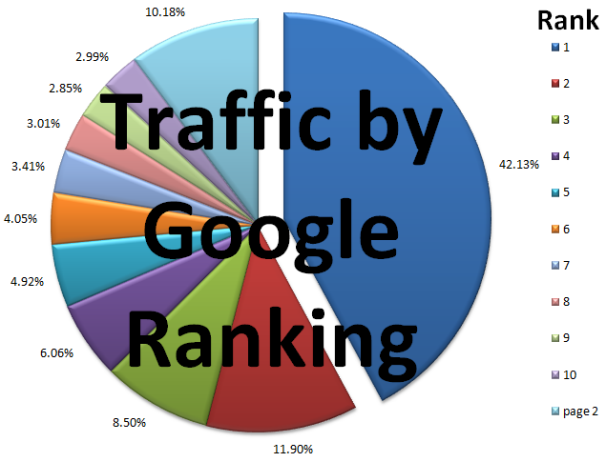 Next up we have a study by Neil Walker showing 46.37% for first and 29.43% for second – this is based on Webmaster Tools data across 2700 keywords.
Finally we have the Chitika study which shows that first place gets 34.35% compared to 16.96% in second.
There are no real conclusions to be drawn from this, other than first place always gets the lions share of visitors. I would like to see a study purely on non-brand keywords and also some kind of study on keywords with AdWords and keywords without AdWords to see what affect that has on CTR across the results.
Our main observation from client data is that first normally gets about twice the traffic as second which is a pretty big jump.