'Let's go get a drink'
That's it. It's all over. All 12 Stage One speakers have finished. Branded3 CEO Tim Grice bids farewell to the delegates and encourages everyone to come to the after party. (Stage Three, btw!)
Which also draws the Stage One live blog to a close. Thanks everyone for following along. See you here next year!
'Reasons to start with search'
Think about voice search and Alexa skills.
"Alexa has convinced us to buy products without even seeing them."
But you can turn voice search around as well, says Steve. People don't always like speaking aloud, after all. The search engine could 'speak' to the user.
Next steps:
Understand what your customers hope to find on your site – and if they found it
Make it easier for customers to find your content on site than via Google
Build and mark up and answer database
Make it your mission to answer every possible query
Main takeaway from Steve:
"Build the one-stop shop for whatever your company does."
'How to audit your site search results'
Steve encouraging delegates to ask: What powers it? Was it implemented internally or externally? Is there another site you could base yours off?
Are there known cases where search results internally are poor? How fast do you get them.
Is there an auto-complete or suggest feature? Can it cope with typos? Do you want to sort the results by more than price?
But:
"Poor meta data ruins internal search and costs organic traffic."
'Customers care about inventory not authority'
Shoppers are starting searches on Amazon now, highlights Steve.
"SEO was about building links. Now it's about building search engines."
To build a search engine, like Amazon, start with your on-site search. But 84% of companies don't even measure on site search. It's simple to switch on in Google Analytics, says Steve.
And make sure it works. If a user gets no results, they're highly likely to leave.
Over to our very own Steve Kenwright
How to be Amazon (and beat Google at Search)
Stephen Kenwright, Branded3
Director of Search
Stephen is Director of Search at St. Ives Group-owned Branded3 – the best large SEO agency in Europe (according to the 2016 judges of the EU Search Awards), and is responsible for owned media, including search and analytics. Writing weekly for the Drum Magazine, Stephen has presented at more than 100 industry events since joining Branded3 in 2012 and now organises the SearchLeeds conference, hosting hundreds of marketers from around Europe every year.
'Attract your customers' attention to bring them in'
If you can, use SERP features, Knowledge Graph and beyond, to attract users to your site.
Think about data markup, mobile optimisation, AMP for e-commerce, speed optimisation.
'Let's use some retail principles to help with e-commerce SEO'
Aleyda suggests to connect by targeting your audience's pain points when purchasing – even if that might not be easy. Take into consideration voice search queries.
Look at things like which terms have high visibility and low click through, and use them to expand on the products and categories. Check which questions are being asked about those – and look at what people are asking on Amazon and eBay too.
Don't forget to look at which of these are more popular to target on mobile rather than desktop as well as content format.
Think about supply and demand too. Why have loads of pages that aren't visited? Basically, high supply but low demand. Not something you'd do in retail.
From Will to Aleyda Solis
Winning conversion-driven e-commerce SEO
Aleyda Solis, Orainti
International SEO Consultant
Aleyda Solis provides international SEO consultancy through her boutique agency, Orainti. Aleyda blogs for Search Engine Land, State of Digital, and Moz, has spoken at over 70 conferences in 17 countries, and is the author of 'SEO. Las Claves Esenciales'.
Look at split testing to understand what works in search
Testing done by Distilled found adding structured data to pages had real improvements. Organic sessions increased by 11%.
Adding ALT attributes had no effect on rankings in Distilled's tests.
Exact match title tags targeted the greatest search volume is conventional wisdom, and Distilled's tests found organic sessions decreased but rankings didn't. Suggesting not matching lead to fewer clicks.
What happens if your content is completely visible with Javascript enabled or disabled. That increased organic sessions by 6.2%.
Category page copy for SEO? Removing poor quality content had positive and negative effects for two different clients.
Testing things to understand whether your recommendations will be effective seems to be a good idea!
'Google is harder to understand these days'
Talking about the search landscape of 2009 before moving into a game: showing two web pages for the same query and asking which one ranks better – asking people to get on their feet in order to 'vote' on what they think.
Search: future of tv advertising
Did our delegates correctly guess whether Ad Age or Content Marketing Institute ranks higher? Most said Content Marketing Institute. It was Ad Age! Winner stays on. Two more searches, same game:
Search: kettlebell technique
Search: do I need to backup my iphone
10 or so people guessed correctly! All the way through.
It turns out, in a proper test, people with more than three years' SEO experience can't guess which page ranks higher better than a 50:50 coin flip.
'My job today is to scare you'
Back from the break:
Lessons from SEO split-testing
Will Critchlow, Distilled
CEO
Will Critchlow is the CEO of Distilled – a company he founded in 2005 with Duncan Morris. Distilled provides online marketing services from offices in London, New York, and Seattle, hosts the SearchLove conference series in the US and UK, and produces the popular online training platform DistilledU.
'Now is the right time to be driving innovation'
Who is driving innovation within the agency? Don't just view technical innovation as something that's a voyeuristic pursuit, think about how you can actually apply it to your campaigns.
Why does your agency exist? A client might understand what you do but not why you do it. A client should ask that of their agency, says Matt.
How should we measure success?
Provided an agency has an open relationship with its client, and the agency knows the brand, how should we measure success, asks Chris.
The industry is moving to a point where it's difficult to learn true value, it will be more about trends.
"Attribution models are not the answer. They're a tool."
Clarity at speed
Ask your agency how open your relationship is. Ask about expertise, data, and technology.
But its also about an open loop of learning, says Chris. What expertise can a client share with its agency?
You need open, real-time data too, whether that's impressions or keywords.
An agency also needs to be on top of new technology, whether that's using Slack instant messaging for Atlas by Facebook.
*Looks around awkwardly*
Up now:
What your agency isn't telling you
Matt Kwiecinski, Journey Further
Managing Director
Chris Rowett, Journey Further
Performance Director
Matt co-founded Journey Further and leads the agency as Managing Director. He previously spent 18 years in the Omnicom Group, where in his role as Managing Director he helped the likes of Vodafone, Diageo and PlayStation leverage technological innovation for business success.
Chris is Performance Director at Journey Further, overseeing the agency's team of biddable media analysts. He has worked in digital his whole career and has managed seven-figure media budgets for the likes of Virgin Holidays, Matches Fashion, Allianz, and MYA Cosmetic Surgery.
The future of paid…
After pointing outs tons of strategies available now, and how real-world brands could take advantage, Sam moves on to what's coming in paid:
Google pop-up map ads
Google Ads taking up more space at the bottom and top of SERPs
Bing working with Uber to provide 'Get a Ride' link for real-world store to pull up the Uber app and get a taxi there
Facebook and WhatsApp adverts. Going to start happening more and more, says Sam.
Beyond that, you're going to get more opportunity to target people instead of keywords.
Technology has changed a lot since search ads have started
Sam talking about how ads used to be very keyword-centric, that hasn't gone away but now its all being backed up by audience data. We're targeting audiences, not just clicks says Sam.
And now there's many different tools and strategies available in paid. Sam moves on to talk about how Google now has two ads in Google Maps listings, and how you can use Google Optimise to adjust landing pages, while Bing has expanding image ad extensions – among many others.
Over to Sam Noble…
Up now:
Futuristic paid media strategies
Samantha Noble, Koozai
Director of Strategy
Samantha is a digital marketing expert, rated 6th in PPC Hero's 'Most Influential PPC Experts' list in 2016. Her core role is as the Director of Strategy at Koozai, a UK-based digital marketing agency. She is also the Co-Chief Editor for State of Digital and founded the Digital Females group.
'Link CRM data back to marketing data'
Neil talking about the issue of how providing record leads to a client doesn't always mean more business for the client. Sending quality leads is key. Can you use data to help you improve your campaign?
Steve says it might be hard to get that data, but you have to try in order to get that edge. Ask yourself:
"How can we use data and development to make us more agile?"
They finish with the message that you need the desire to do better, combine that with data and work with developers to show you how to apply that and earn stronger results.
'Desire is…'
Caring about a client, wanting to the the best, as well as being brave and asking deeper questions. From that you get little nuggets of information to act on, says Steve. That can turn a successful account into a really successful account.
'Paid search is more exciting and more challenging than it used to be'
Neil asks, how do you deal with all the new AdWords features? Is automation the key?
"Even the best automation is only as good as the data you're putting into it. Not all automation is created equal."
Don't just use data from AdWords. Use real business data, says Neil.
Why should we care about data? It tells us how we can use new features to deliver real business benefit, says Steve.
Back from lunch!
Everyone has been fed and watered and they're filing into Stage One to continue getting industry-leading insights.
Up first:
Desire, Data, and Developers: 3 key facets of improving paid search performance
Steve Baker, Epiphany
Operations Director
Neil Astin, Epiphany
Head of PPC
Steve has worked in digital and search since 2002, and has held a range of agency side roles, focusing on delivering exceptional performance for clients. As Operations Director at Epiphany, Steve oversees a large team of digital specialists, working in SEO, PPC, Display, CRO and Analytics, ensuring that Epiphany deliver campaigns that over achieve against a client's objectives whilst also ensuring that the agency constantly look forward to pre-empt some of the trends that maybe on the horizon.
Neil has been at Epiphany for six years and brings his passion for creativity and analysis to the Head of PPC role. Neil oversees the delivery of multimillion pound paid search campaigns and has helped to create a lively, innovative and collaborative working environment for a team of biddable media specialists.
Succeeding in a micro moment world
In terms of mobile ads in search: Be there, be useful, be quick, says Stephen.
Showing up gets your brand in the game to be chosen, not just seen. Among other reasons, you get a shot at your competitor's customers and it drives brand awareness.
Without utility in the moment, not only will consumers move on, the might never come back. Stephen saying how good your mobile site is in terms of short and snappy information is key to getting people to convert.
"42% of consumers choose brands that engage them on their passions more than just their urge to buy."
Create 'snackable', educational content, says Stephen. Provide how-to video content with step-by-step actions. Plus, allow people to make purchases quickly.
Stephen finishes with, 'If speed thrills, friction kills.' Make sure you're not holding people up on site, however they're arrived there.
Mobile moments
"There are plenty of moments where a brand should and could come into play."
Stephen delves into Google's Micro Moments, emphasising how brands should look at entertainment moments, information-seeking moments, moments where they want to go somewhere ("2 x increase in 'near me' search interest in the past year" and UK leading the charge in voice search, says Stephen), ideas and how-to moments, and purchase moments,
Before Search there was search
Stephen points out how people have been looking for answers to (sometimes irreverent) questions by asking entities for answers long before Google, pulling up several questions people had asked the New York library back in the '50s. Everything from the weight of Napoleon's head to the identity of Plato.
Tons of people spill into Stage One for…
We don't go online. We live online
Stephen Power, Google
Agency Development Manager
Hailing from Cork, Stephen has been at Google Dublin for 4 years, starting as an Agency Strategist in the Irish team and now Agency Development Manager in the UK team. He is a keen golfer, footballer, and soon to be cyclist – by June 15th, he'll be just back from a 450km cycle from Croatia to Venice!
To finish…
Danny finishes with a takeaway for everyone:
"Put the right content in front of the right people at the right times."
'Your distribution method needs to be fit for purpose'
Danny saying this is one of the most neglected areas of content. He goes on to talk about how you knowing your audience in terms of background and how they engage with a brand (what and how they buy as well as how they engage on site) is necessary, and that ties into how the content is distributed.
Some content should be targeted to pull in organic traffic through search, other types could be pushed to relevant that audience based on what you learned above.
'Use insight to create successful content'
Danny saying you should think about your performance, audience, and brand insights. Where these intersect is where you'll find your content.
You should find out things like who your audience are and where they're active online. For your brand, what does it stand for? Does it overlap with what your audience cares about?
Don't look at these things and you risk your content disappearing into the depths of content marketing purgatory.
"The internet is a brilliant place to hide content."
Over to Danny…
Up now:
A content blueprint to drive serious SEO success
Danny Blackburn, Stickyeyes
Content Director
Danny is Content Director at digital agency Stickyeyes, part of IPG Mediabrands, with responsibility for content strategy for a wide range of clients including Staples, Hertz, and Tesco Bank. With extensive experience in journalism and content marketing, Danny has also worked on digital content with Asda and EE and was responsible for the digital and social media operation at the Press Association – the UK's national news agency.
Planned vs. live content
Around the election, The Telegraph found a mix of live, planned, and reactive content performed best in search, proving the need to think about your content in more than one dimension. Social, the most popular Telegraph posts weren't always about the election at all.
One final tip:
"You have to publish at volume if you want to get traction on social media."
Social distribution like a publisher
Do you need different, filtered social channels? James explains how the Telegraph has over 40 Twitter accounts to distribute its niche content and far fewer Instagram channels.
"Not everything you produce will work on Facebook and Twitter."
James says evergreen content works better on search, as well as live blogs and 'who, what, where, when, why, how' posts. Timely pieces and opinion pieces do better on social.
All worth remembering for marketers.
Putting your content on social
Think about your headline, says James. 80% of people will read that without reading the story. Does it make sense on its own? Sometimes headline don't mean anything in isolation, so don't drive click-through.
Likewise, if you tell too much of the story, you might get lots of social engagement (Likes, etc.) but not so much click through.
How online content works at The Telegraph
Will talking about how at The Telegraph, which pulls through 4.2 million to its website a month, says the Audience team there focuses on looking at what's happening and developing stories to act upon, as well as looking at the editorial calendar, as well as keeping an eye on the evergreen content that works.
The team uses these three areas to work out the content The Telegraph will produce online.
Stage One packed for the mid-morning session
Up now:
Audience development: How SEO and social work together at a large publisher
James Carson, The Telegraph
Head of SEO and Social Media
James Carson is Head of SEO and Social Media at The Telegraph – the UK's best-selling quality newspaper and one of the largest newspaper websites. He has written extensively for Smart Insights and Econsultancy on content marketing, native advertising, and distribution.
Bigger than Mayweather vs. McGregor…
…Kind of. #SearchLeeds is trending on Twitter.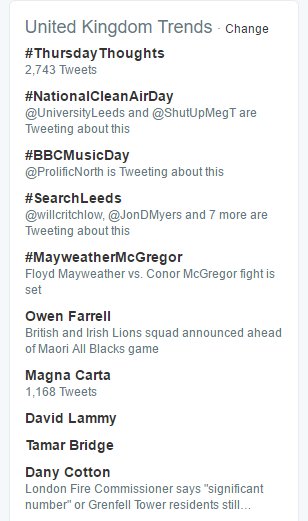 'To wrap up…'
Paddy says:
"Don't see budget as the key to success. Focus on the story."
And now it's time for a break! Talks back on at 11:15.
'Target journalists and writers with your content via Facebook'
Paddy highlights that you can follow up your outreach with targeted Facebook ads pointed squarely at writers and taste makers.
He moves on to talk about how mobile needs to be something marketers consider before how people will see your content on desktop.
"It's about communicating your message in the right format."
'Why content really fails'
Following massive link success from one of Aira's lowest budget content campaigns, Paddy says content fails if it doesn't have a story and doesn't add value beyond what people already have or know. Or if it's not executed well.
"Budget isn't a driver of success."
He says to limit the scope of your execution. Restrictions help your creativity, comments Paddy, tying that back into how small budget limits can focus your efforts into one strong idea. Could a .gif be as effective as an interactive piece?
'Link building isn't easy'
It's risky and it may not work, says Paddy. And even if your campaign is a success and you get links you might not see the benefits directly.
Paddy says having more budget doesn't reduce the risk, recounts a story of how a client wrote off £140,000 worth of content because it didn't get final sign-off from the VP.
"A big budget doesn't mean more links."
Money can't make up for a bad idea.
Aira's Paddy Moogan takes the stage
From SMEs to billion dollar companies – How link building can work for everyone
Paddy Moogan, Aira
Co-Founder
Paddy is co-founder of Aira, a digital marketing agency based in Milton Keynes specialising in SEO, PPC, and creative content marketing. He has been working in SEO for over 10 years, working with clients around the world of all sizes. Paddy is the author of 'The Link Building Book', which is now in its second edition.
In summary…
Paul says, among many other tips, you need to know your link profile and reduce your LinkDebt. You need to do general link hygiene regularly. You need links that are going to pass their equity for the long term. Consider that some of your old links may no longer pass value.
"It's not a volume game any more. It's a quality and relevancy game."
'Penguin 4 is more of a problem than people think it is'
Paul says Penguin 4 isn't really in real-time, like Google says. It relies on the bad links being assessed when Google crawls. Penguin is felt slowly and on a page-by-page basis.
'Don't believe the hype'
Paul gives a brief history of link use in SEO, then touches on how links sit in today's search landscape. They haven't gone away. He talks about tests where links have a clear impact on performance. Message: don't underestimate their importance.
"Links haven't gone away, but their role has shifted."
Kerboo's Paul Madden on links
Up now:
Links as a metric in 2017, are they still relevant and how do we ensure value?
Paul Madden, Kerboo
Co-founder of the SEO platform Kerboo, Paul Madden has been making his living online for over 15 years. Initially a self-confessed web spammer, he then built a link building business at scale before switching to the software business with Kerboo.
'Why is it important?'
To wrap up, Laura hammers home that you need ask your yourself that question about your campaign three times so you can get to the core of it and work out whether it's going to appeal to people's emotions. That's critical to its success.
Try the pub test
When you're thinking of a campaign, can you imagine people sat in a pub talking about it? If not, maybe it's not the best idea. You might need another hook.
"93% of personal recommendations are done face to face, not online."
Face-to-face audiences are more captive.
Don't discount the shock factor
Laura points out how effective shocking facts are at helping campaigns hang in people's minds. Just like in films, something that stirs emotion connects with your audience better.
B3's Laura Crimmons is up
Let's get emotional
Laura Crimmons, Branded3
Communications Director
Laura is Branded3's Communications Director, leading the PR and social media strategy across a variety of client accounts. With extensive SEO knowledge, and experience in traditional and digital PR, Laura knows how to create and execute campaigns which deliver multiple online benefits.
She's first on the main stage, talking about emotions in marketing.
"The most popular films all evoke strong emotions. But we forget about this with marketing."
Ready. Set. Go!
Branded3 CEO Tim Grice takes to Stage One to welcome the tons of SearchLeeds delegates who've crammed into the main hall.
"We've gone bigger, better, bolder this year. I hope you enjoy this because we want to do it every year."
Filling up nicely!
The main stage is going to be standing room only at this rate. Loads of delegates still streaming in, and only a few minutes until it all kicks off!
Welcome to SearchLeeds 2017!
Stage One at SearchLeeds is about to kick off. Stick with us all day to get the highlights from the 12 talks on the main stage.