Just been watching Dragons Den and listening to the guys from Servicing Stop getting £100,000 investment (if I remember correctly) from Deborah Meaden in return for a 30% stake in the business.
It seems like a good idea but they are missing a big trick with their search engine marketing – the site is optimised (see the footer links) for things like Ford Service but there are no geographical pages!
They need to set up pages targeting "car service Leeds" in the natural search results and work with each garage to register with Google Local / Maps to get listed in those results too. There is so much local search volume around this industry that the potential is huge – I've worked on a friends garage site before and even a couple of good rankings in one small town can drive a steady stream of business. Multiply that across hundreds of locations and the potential is huge.
Search volume for servicing cars and models is small but if they can rank for the geographical modifiers across every town in the UK the site could drive thousands of leads every single day.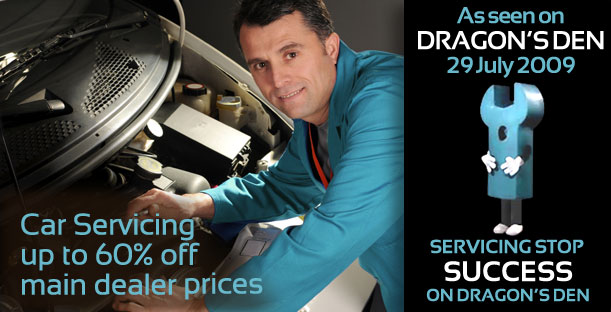 From the BBC overview (video highlights available too):
Essex brothers Oliver and Toby step into the Den with a spanner mascot who they hope will not put a spanner in their works.

Their pitch is for a nationwide car servicing network doesn't stall however as they report a year one turnover of £1.5m based on their ability to undercut main dealers by between 30 and 50%.